Based on customer feedback, Primerus is changing package sizes for cut 1/8″ tubing lengths from 3,000 pc to 1,000 pc, and adding standard products to the line. Cut lengths are now available as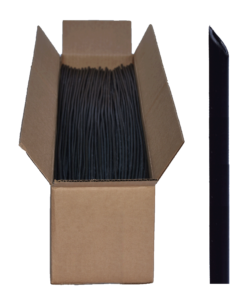 standard products in 24″, 36″, 48″, 60″ and 72″ lengths, either with 90 degree cuts on both ends, or a 45 degree cut on one end for direct insertion into a PE lateral.
The transition to smaller package sizes has a number of customer benefits. First, it allows smaller nurseries to benefit from the convenience of pre-cut lengths. Also, it allows more ordering flexibility while still shipping from stock. For example, a 4,000 pc order to date has been considered a custom product because it required a partial-box to be manufactured. With the new packaging, a 4,000 pc order is a standard product that can ship quickly from stock.