Pot-Dripper Drip Ring
The Pot-Dripper Drip Ring For Cannabis and Container-Grown Berries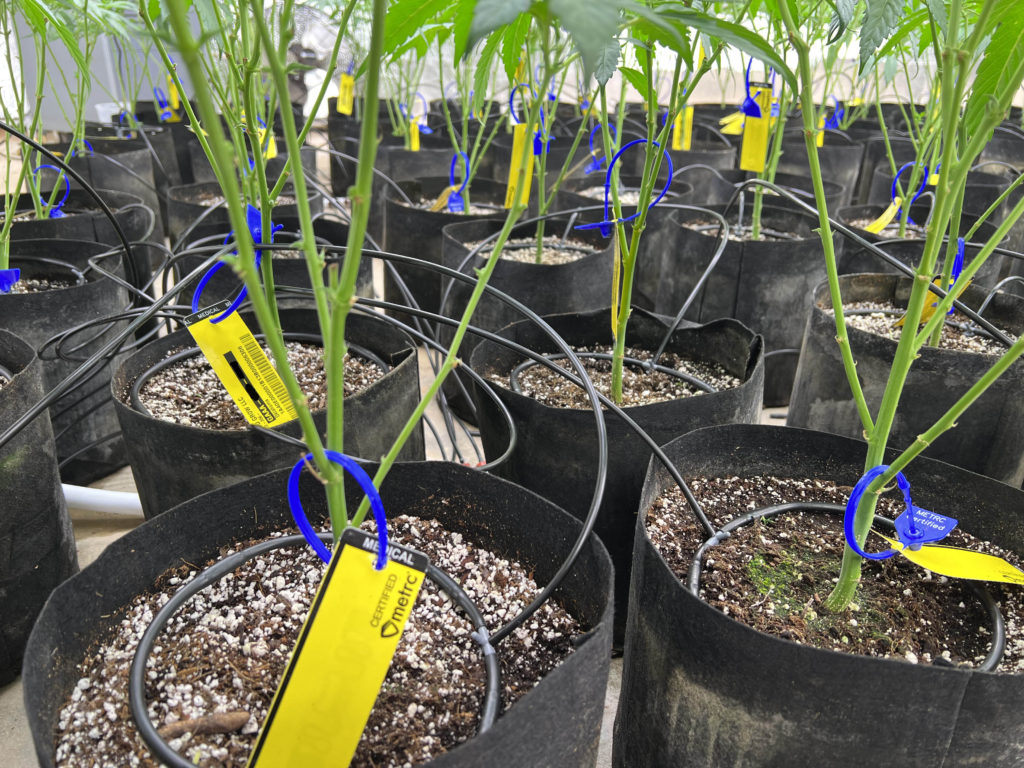 The Primerus Pot-Dripper Drip Ring is a BRAND NEW WAY to irrigate your high value container crops. Whether growing cannabis, container blueberries or greenhouse plants, the Pot-Dripper is the most precise way to apply water to your media. For tree farms and outdoor nurseries use the Pot-Dripper HF High Flow Drip Ring.
The Pot-Dripper applies water and nutrients evenly to your entire container with ZERO OVERSPRAY. Conventional drip irrigation only applies water to a single point which causes uneven root development. Sprinkler irrigation wastes water and grows weeds by watering between containers. Even high precision spray stakes such as the Spot-Spitter can allow small amounts of water to drift between containers. The Pot-Dripper keeps all of the water you apply in the container. In addition, no irrigation water touches any part of the stock of foliage, helping to avoid diseases in sensitive plants. Use the Pot-Dripper for your most demanding container irrigation projects.
The heart of the Pot-Dripper Drip Ring is the Pot-Dripper Stake. An innovative feeder stake which connects to a ring of 1/4″ dripline with the right diameter to fit your container. The Pot-Dripper stake is made from the same high quality acetal used for the Spot-Spitter and will last for years. An innovative tapered connector holds the tubing ring tightly, but also allows you to easily remove  one end of the ring to install it around an existing plant or to remove it when you take a container out of service. The stake is supplied with the same 1/8″ spaghetti tubing that supplies a Spot-Spitter, and which also can also directly connect to a PC CNL emitter ("Hub Emitter") if you choose to make your system pressure compensating. Just like the Spot-Spitter, the Pot-Dripper stake has a shutoff which allows you to stop water flow when you remove a plant.
The Pot-Dripper provides the similar functionality to other high quality drip rings such as the Netafim NetBow (TM), with additional features which make it unique within its category.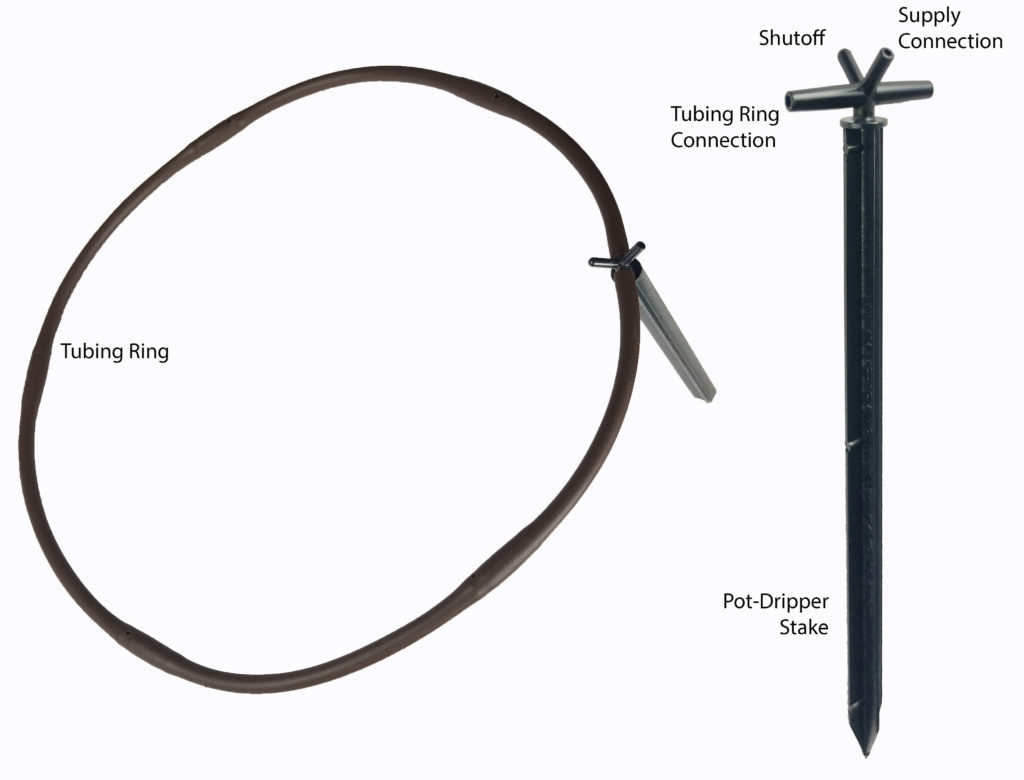 For more information on how to select and use the Pot-Dripper Drip Ring refer to the tables below, and also download our Pot-Dripper Data Sheet and Pot-Dripper Instructions for Use. Buy the Pot-Dripper either as a fully assembled drip ring (50 to a box), or assemble your own by using the Pot-Dripper Stake (100 to a bag) and rolls of 1/4″ dripper line. All parts are listed below.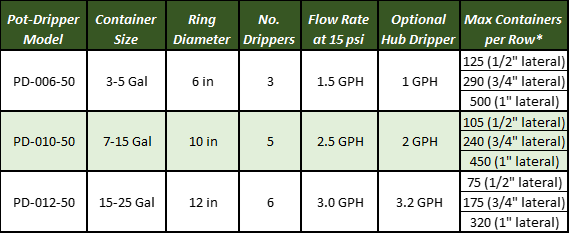 * At 300-ft run. For other run lengths consult a design calculator.
Click Here to find a place to buy the Pot-Dripper. If it is not available at your local Primerus dealer, click Buy Online to find an online dealer.
The Pot-Dripper is the simplest, most economical and flexible system for drip irrigating containers.
Downloads
Pot-Dripper Instructions for Use